1924 - 2003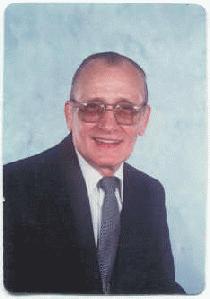 Bernard H. Snyder, 79, of South Point, Ohio passed away Saturday October 25, 2003 in St. Mary's Medical Center. Funeral service will be conducted 11:00 a.m. Tuesday October 28, 2003 at Hall Funeral Home by Pastor Dale Barnett. Burial will follow in Rome Cemetery. He was born January 17, 1924 in Chesapeake, Ohio to the late Hobert and Gladie Langdon Snyer. In addition to his parents, he was preceded in death by brother Shirley Snyder. Bernard was retired from Heiners Bakery, a C.B.I Bashi Army veteran, a member of VFW post #6878 Proctorville, and a life member of D.A.V. Chapter # 2. He is survived by his wife Margaret Snyder; two daughters and sons-in-law Augusta " Dusty" and Bill Adkins of Roanoke, VA and Debra and Jeff Curry of Proctorville; three sisters Sylvia Wheeler of Huntington, Margaret Hatfield of Proctorville, and Leoma Shiflet of Gallipolis; five grandchildren; six great grandchildren; and several nieces and nephews. Friends may call from 6 to 8 p.m. Monday October 27, 2003 at Hall Funeral Home 625 State Route 775 Proctorville, Ohio. In lieu of flowers, contributions may be made to VFW Post # 6878. VFW Post # 6878 will conduct military graveside rites. Condolences may be expressed to the family at www.timeformemory.com/hall
---
There are currently 8 condolences.
PAUL AND MELANY BUTCHER
PRB@PEOPLEPC.COM
Tuesday October 28, 2003 at 6:15 PM

DEAR DEBY AND DAUGHTERS, WE WERE SORRY TO HEAR ABOUT YOUR FATHER AND GRANDFATHER. HE WAS A KIND AND SWEET PERSON WHO LOVED AND SERVED THE LORD. HIS TESTIMONY FOR THE LORD WAS ONE THAT WILL NOT BE FORGOTTEN BY PEOPLE WHO KNEW HIM. MAY YOUR MEMORIES GIVE YOU THE COMFORT YOU NEED AT THIS TIME. PLEASE TELL YOUR MOM WE ARE THINKING ABOUT HER, TOO. PAUL AND MELANY BUTCHER
Connie Webb Myers
cmyers@conniepost.com
Tuesday October 28, 2003 at 1:28 PM

I was so sorry to hear of Bernard's passing. He was a such a gentle man with a sweet spirit. I will miss running in to him at Wal-Mart and such. I know you are hurting, but surely are happy to know he is with Jesus. I'll be praying for you all.
Shelley Cyrus Sumpter Arcusa
shelleyarcusa@aol.com
Monday October 27, 2003 at 9:38 PM

Dearest Dusty, My heart is heavy in thoughts of years gone by.... to the 60's. It seems like yesterday that we were going to the junior high prom and your Dad was waiting for his Lil gal to come home.. please know he would want you to rest you heart in the good memories and love life and God to the fullest. I do regret that I am miles away in Jacksonville Florida and unable to give you that tender hug that I want to express my love and caring, but do know that you and your family are in my heart and prayers. As always, Shelley "Cyrus" Arcusa
Brenda Boggs
Monday October 27, 2003 at 2:05 PM

Your loss is my loss! All of you are like family to me, many, many great memories. I have never meet a greater man. My heart aches. It is a comfort knowing Jesus is waiting for him with open arms. I love you all very much!
Billy and Rita Dickerson
Ritae59@webtv.net
Monday October 27, 2003 at 9:53 AM

Margaret, our prayers are with you & family. Sorry we could not be there, but God will be right at your side, See you when we get home Love and Prayers Bill & Rita Dickerson
Nancy and Earl Heiner
ewhjr@adelphia.net
Monday October 27, 2003 at 9:32 AM

To the family of Bernard Snyder. Nancy and my prayers go out to you. I felt that Bernard was quite a gentleman. One who always smiled and spoke when ever he would see me at the bakery. I always loved and respected him. I am glad I got to know such a great person. Sorry that we will be out of town and will not get to say these things yo you personally. Nancy and Earl Heiner
Chandler Maynard
Jennifermaynard@bellsouth.net
Monday October 27, 2003 at 9:12 AM

Papaw was a great man, I love him alot, and will never forget our trips to the flea market and the fun games we played. I will miss you alot, but I know you are with Jesus. I will see you again one day. Love, Chandler
Doug Ridenour
Riden932@msn.com
Sunday October 26, 2003 at 11:53 PM

Dear Marg: I am very sorry for your loss. My prayers are with you and your family at this time. I always enjoyed having Bernard on my bus trips no matter where we were going. I remember the Atlantic Beach trip, in particular, when the accomodations and the trip to Atlantic Beach did not go exactly as planned, Bernard came to me and put his arm around me and said that things were just great. He gave me a pat on the back. That helped. Once again, my prayers are with you all.
---