1938 - 2007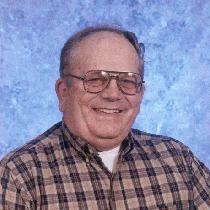 Eugene D. Cooper age 68 of Sheridan died Saturday January 6, 2007 at Spectrum Health Butterworth Campus Grand Rapids. He was born in Stanton, MI on May 26,1938 the son of Dale N. and Sylvia L. Ranney Cooper. Gene was a graduate of Stanton High School with the class of 1956. He served with the US Army in Germany and was a member of the American Legion Post # 101 of Greenville. He was formerly employed as a truck driver with the Montcalm County Road Commission, Claude Lund and Son and currently with Hi-Grade Materials. He attended Greenville Community Church. On November 5, 1960 in Lansing Michigan he married Janet S. VanSickle and he was a loving husband and father and was designated as a "Heavy Duty Grandpa".
He is survived by his wife Janet, their daughters; Annette and Brian VanHouten and Christa and Jack Babcock all of Sheridan , Barbara and Kurt Strouse of Gowen, their son Alvin Cooper and his fiancé Donna Vail of Kempner, Texas, former daughter-in-law, Ann and Tim Lindbergh of Hinesville, Georgia, 11 grandchildren, 2 great grandchildren, his sisters; Audrey Parrish , Avis Cooper, Margaret Cooper all of Stanton, Lois Cooper of Rockford and his brother H. Lyle and Carol Cooper of Sheridan, his sister-in-law Jacqueline and William Land of Lansing ,nieces, nephews and special friends Don and Shirley Thickston of Columbus Indiana.
Preceding him in death were his parents, brother David Cooper and grandson Andrew Van Houten.
Funeral services will be held on Wednesday January 10,2007 at 11 AM from Greenville Community Church with Pastor Joel Heron officiating. Burial will be in South Sidney Cemetery, Sheridan with military honors provided by American Legion Post #101 of Greenville. Visitation with the family will be on Tuesday from 2-4 and l6-8 at Hurst Funeral Home, Greenville. Memorial contributions may be given to Heartland Hospice or Greenville Community Church
---
There are currently 8 condolences.
MaryJane & Mike Holmes
Wednesday January 10, 2007 at 1:58 PM

Dearest Janet, our prayers are with you and your family. I'm sorry we are so far away. Take care and God bless.
Edward & Marlene Bracey
Wednesday January 10, 2007 at 10:51 AM

Was sorry to hear of yourloss of Gene. Just wanted you to know our thoughts and pray's are with you and your family at this time.
Norma(White)Baker
Tuesday January 9, 2007 at 4:07 PM

The sadness of the passing of your Husband,father is felt by many. May the thought of knowing that friends share in your sadness be of comfort to you. Take care.
Tina & Tim Sleight
Tuesday January 9, 2007 at 11:51 AM

It was a pleasure working and getting to know Gene. He inspired our life. My son Darren enjoyed riding around in the dump truck 239 with Gene on those boring days that he was stuck there at High Grade with nothing to do, Gene always made sure he had fun. I also remember the time that Gene brought me the biggest chocolate milkshake ever just cuz I wanted to go get a milkshake. He was always so thoughtful and caring for others!! I'll miss him so much. We are thinking of you in this time of need. Please if you need anything please let us know. We loved Gene sorry for your loss. Tina Sleight
Dave and Mary Boyer
Tuesday January 9, 2007 at 9:34 AM

Was suprised to hear of gene's passing. We Attended Greenville community church, and would often set near him and Janet. He alway's had a smile, and was so jolly. Our hearts go out to Janet, and the family
74th Engineer Company (MRBC), Fort Hood, Texas
Monday January 8, 2007 at 3:20 PM

SFC Cooper and Family, on behalf of the 74th Engineer Company (MRBC), Support Platoon, we would like to send our sincere condolence. As an extended family, we are all here to support you! 2LT Gouacide,Beatrice / SFC Fuavai
Bill and Caroline Ellsworth
Monday January 8, 2007 at 2:56 PM

Thinking of you at this time of sorrow. Take care.
Amanda Tiffany
Monday January 8, 2007 at 10:21 AM

Barb, Nikki, Tosha and family Im sorry for your loss!
---