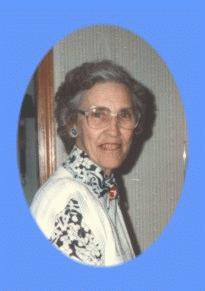 EMMA R. SMITH
Emma R. Smith, age 93, of Luray, MO, passed away Sunday, March 18, 2007 at Keokuk Area Hospital in Keokuk, IA.
She was born September 2, 1913 at her parent's home, rural Kahoka, MO, a daughter of Morris and Ida Williams Oilar.
On November 19, 1930 she and Clyde Smith were united in marriage in Lewistown, IL. He preceded her in death on March 28, 1982.
Survivors include a son, Clyde M. Smith, Jr. and his wife, Betty D. Smith of Luray, MO;a brother, George Oilar, of Kahoka, MO; a sister-in-law, Veva Oilar of rural Farmington, IA; five grandchildren: Steve (Kathy) Smith of Kahoka, MO, Roger (Tammy) Smith of Keokuk, IA, Cheri Hutchinson of Florrisant, MO, Dennis Smith of Luray, MO, Carolyn (Rob) Spurgeon of Granger, MO; also Tony Hutchinson of Florrisant, MO who was very special to her; seven great grandchildren: Lance Smith of Memphis, MO, Elizabeth Cline of Des Moines, IA, Curtis Smith of Johnston, IA, Eric Hutchinson and Dana Hutchinson, both of Florrisant, MO,Daniel (Ashley) Spurgeon of Downing, MO, and Joseph Spurgeon of Granger, MO; three step great grandchildren: Summer Roller, and Brad an Deanna Shoup, all of Kahoka;two
great-great grandchildren, Auralynn Rose and Drake Johnalan Spurgeon of Downing, MO with another great-great grandchild expected any day; several nieces and nephews; and two special friends and neighbors, Suzie Hopp and Jerry Stewart, both of Luray, MO.
She was preceded in death by her parents; her husband; a brother, Hugh Oilar; and three sisters, Edith Dochterman, Elnora Hopp, and one in infancy.
Emma attended Kahoka High School. A native of Luray since 1940, she was a member of the Luray Baptist Church where she also served as an adult Sunday school leader. For many years she also planted and cared for the flower garden at the intersection of Highway 136 and Route K at Luray.
Following her marriage, she was a postal clerk in the Luray Post Office. She then worked for Sisson Produce, Sheaffer Pen Company, and retired from Sheller Globe in 1971. She also was a correspondent for the Daily Gate City for many years.
Emma enjoyed traveling and visited all of the states with the exception of Maine, New Hampshire and Vermont. She travels also took her to Old Mexico, Canada, Germany, Belgium and Holland. She also gardening and caring for her yard and prided herself on the lack of weeds in her well maintained acreage. She enjoyed history books and scrapbooks, keeping clippings of stories and pictures and other articles of county events through the years. Her passion was genealogy. She enjoyed researching for family and friends and had traced her family back five generations to her descendants which were from Holland. Her greatest pride came from the
pages she left in the genealogy book of her son, grandchildren and great grandchildren.
Funeral services are Wednesday, March 21, 2007 at 1:30 p.m. at Wilson Funeral Home with Pastor Mark Lowman officiating. Burial will follow in the Kahoka Cemetery.
Friends can call after 11 a.m. Tuesday at Wilson Funeral Home with family receiving friends from 6-8 p.m.
Memorials are suggested to the Luray Baptist Church.