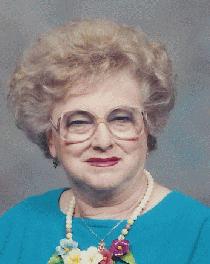 IDA LORENE SIZEMORE, 84, of Barboursville, passed away Tuesday, June 5, 2007 at St. Mary's Medical Center. She was born November 26, 1922, in Barboursville, West Virginia, the daughter of the late Thomas J. Sr. and Roberta B. Dillon Nash. She was preceded in death by a sister Janice Mills and two brothers, Thomas J. Nash, Jr. and Gary E. Nash. She is survived by her husband, Orville Sizemore and one daughter, Sharon Cremeans Prescott, of Barboursville. Also surviving her was Grandchildren, Tim Prescott and Cindy Prescott Kidd. Three Great Grandchildren, Jacob, Joshua, and Aaron Kidd and a very special friend, Connie Stanley. She is also survived by Three sisters and two brothers. Freda Benson, Glenwood, WV; Catherine Morgan, Huntington; and Adelia Horn, of Auburndale, FL. Brothers, Charles G. Nash, of Huntington and Jude I. Nash, of Covington, GA.
Mrs. Sixemore was a member of Lewis Memorial Baptist Church, where she was a member of the choir and was a former Sunday School Teacher. She was also a member of the Guyan Estates Garden Club.
Visitation will be Friday, June 8, 2007, from 6 - 9 PM at HENSON MORTUARY, BARBOURSVILLE. Funeral will be held Saturday, June 9, 2007 at 11:00am at the Mortuary. Burial will follow at the White Chapel Memorial Gardens, Barboursville. Officiating will be Drs. David Lemming, Tim Yates, and the Rev. Richard Sexton. HENSON MORTUARY is in charge of arraignments.
CONDOLENCES MAYH BE SENT TO THE FAMILY AT, www.timeformemory.com/henson