1931 - 2008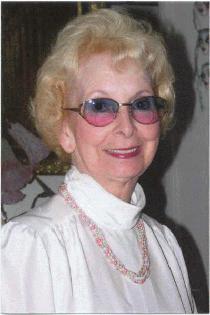 MARY TAYLOR TURNER HACKER, 77, departed on her final journey Tuesday, May 20, 2008, at Emogene Dolin Hospice House. She was born April 14, 1931, in Charleston, W.Va., a daughter of the late William E. Taylor and Alice Gillespie Taylor Arthur. She was also preceded in death by her son, Dennis Turner; a brother, William K. Taylor; and a sister, Jean Giddens. She was a real estate sales agent and served as an elected official in the village of Chesapeake for 16 years, where she was elected Clerk-Treasurer, a council member and was Mayor Pro Tem for three years. She was a lobbyist for the AARP and served for six years; two years as vice chair of the Ohio State Legislative Committee, and two years as chair. Along with her husband, James, she also served as an advocate for AARP. She sang with the River Magic Chapter of the Sweet Adelines for 14 years. She loved the Lord and was a Protestant and a member of Christ Community Church in Proctorville, Ohio, where she sang in the choir. She attended schools in Charleston and Huntington, W.Va., and graduated from Chesapeake High School in 1947. She attended Ohio University. She was one of a small group of senior citizens that produced TV programs in the early days of the TV-Media Department at OU. She is survived by her dear husband, James C. Hacker; one daughter and her husband, Sandra and John Lloyd of Chesapeake, Ohio; one step-daughter and her husband, Jane and Robert Hime of Columbus, Ohio; one son and his wife, James O. and Teresa Hacker of South Bloomfield, Ohio; one brother and his wife, Kermit and Dorothy Taylor of Proctorville, Ohio; one sister-in-law, Charlotte Hacker of Columbus, Ohio; seven grandchildren, Chad Turner of Huntington, W.Va., Stephanie Lloyd of Huntington, W.Va., Courtney Hime and Christian Hime of Columbus, Ohio, Danielle and her husband Tim Colburn of Chillicothe, Ohio, Jason and his wife DeAnna Hacker, and Kim and her husband Dustin Blanton of South Bloomfield, Ohio; two great-grandchildren, Tyler Hacker of South Bloomfield, Ohio, and Mason Colburn of Chillicothe, Ohio; several nieces and nephews. Funeral service will be at 10 a.m. Friday, at Hall Funeral Home, Proctorville, Ohio. Burial will follow at Rome Cemetery, with services conducted by Dr. Kermit Taylor and Father Charles Moran. Visitation will be from 6 to 9 p.m. Thursday
---
There are currently 7 condolences.
DIANNA FULLER
imprettydi2u@yahoo.com
Thursday January 1, 2009 at 5:41 PM

DEAR JAMES ME AND MY 2 SISTERS MET YOU AT THE CANDLELIGHT SERVICE IN MEMORY OF YOUR LOVED ONE THAT HAS PASSED FROM CANCER MY MOTHER PASSED AWAY ON FEB 7TH OF THIS YEAR, YOU SAT AT THE TABLE BEHIND US, YOU WERE SO SAD ABOUT YOUR WIFES DEATH, THEN WE SAW YOU AGAIN AT THE MEMORY TREE AT CHRISTMAS AT HALLS AND YOU WERE SO SAD THEIR TO, I COULD TELL YOU LOVED THIS LADY ALOT, ME AND MY SISTERS WERE WORRIED ABOUT YOU PLEASE HAVE SOMEONE EMAIL ME BACK TO LET US KNOW HOW YOU ARE DOING, WE ARE THE DAUGHTERS OF JANET FULLER , DIANNA FULLER, KAREN DILLION AND KRISTI WILSON I HOPE YOU ARE DOING OK
Lu Ann South
south@marshall.edu
Tuesday May 27, 2008 at 8:32 AM

Dear Sandra, My deepest sympathy to you and your family. I am sure your mother is at complete peace and enjoying the company of the Lord. Please let me know if there is anything I can do for you. Love, Lu Ann
Okey Napier
Friday May 23, 2008 at 11:57 PM

Sandee, Please know that you are in my thoughts and prayers at difficult time in your life. Okey
Janet Walker Trace
jtrace@columbus.rr.com
Thursday May 22, 2008 at 7:14 PM

Dear Jim and Family, We just want tell you how sorry we at this time of your loss. You were one of Calvin & Dorothy best friends and we want you to know that you will be hearts and in our at this time. Love and Prayers, God Bless your family The Calvin Clark Family Earl & Janet Walker Trace Arthur & Joyce Clark Frank & Susan Chander And again our love and prayers are with you and your family at this time.
Kateryna Schray
Thursday May 22, 2008 at 4:17 PM

Dear Sandee, My heart goes out to you and your beautiful family. Love, Kateryna
John Young
Thursday May 22, 2008 at 2:25 PM

Dear Sandee, Alexandra and I are so sorry for your loss. I hope you're able to also reflect on all the wonderful aspects of your mother's life at this time. You, John, and Stephanie will be in our thoughts. Best, John
Gina & Terry Kates
tandgkates@zoominternet.net
Thursday May 22, 2008 at 1:44 PM

Sandee and family, we are so very sorry to hear of your loss. I know from first-hand experience how hard this is for you, so just enjoy those precious memories and rest assured, your mother is probably singing in that Heavenly choir right now! Please call us if we can do anything at all.
---