1941 - 2008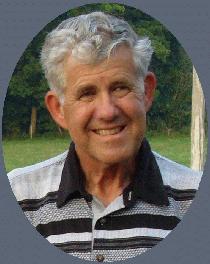 DONALD LEE GREGORY
Donald Lee Gregory, age 67, of Alexandria, MO, went to be with his Lord and Savior on November 2, 2008, in the University of Iowa Hospital in Iowa City, IA.
Don was born in Clark County, MO on June 19, 1941, to Leroy and Marguerite Mayer Gregory. He was united in marriage to Connie Curfman on September 8, 1962, at Alexandria, MO, and they were the parents of two children, Lori and Troy.
Survivors include his wife, Connie, of Alexandria, MO; his children, Lori Smith and her husband, Tim, of Ewing, MO and Troy Gregory and his wife, Paula, of Alexandria MO; eight grandchildren: Christa, Caleb, Seth, and Micah Smith of Ewing, MO; Jessica (Jesse) Nelson of Kirksville, MO, Corey (Abby) Gregory of Camp Pendleton, CA; Robert Bergman (fiancé Nicole Mohr) and Randall Bergman, all of Ferris, IL; two great grandchildren, Hunter and Riley Gregory; his mother, Marguerite, of Kahoka, MO; four brothers, Gary (Joan) Gregory of Hamilton, IL, Tom Gregory of Hamilton, IL, Jerry (Joni) Gregory of Springfield, MO, and Kevin (Lori) Gregory of Montrose, IA; a sister, Patricia Gregory of Kahoka, MO; two brothers-in-law, Melvin "Buck" Curfman of Wayland, MO and Gerald "Inky" (Sandy) Curfman of Des Moines, IA; and, several nieces, nephews and cousins.
He was preceded in death by his father; two sisters-in-law, and a nephew.
Don graduated from Kahoka High School in 1959 and served six years in the Army National Guard. He enjoyed spending time with his family and hunting, fishing, and looking for mushrooms with his kids and grandkids. He also enjoyed He supported his children and grandchildren by attending any school, community, or church events that they participated in. He not only supported his own children and grandchildren, but supported their friends as well.
Don was active in the Alexandria Baptist Church. It was there that he received the Lord Jesus as his personal Savior. It was his prayer that his family and friends would also come to the knowledge that Jesus Christ came to earth, died, and rose again for their sins. Over the years in the church, Don was a deacon, trustee, treasurer, Sunday school teacher, and song leader. He enjoyed spending time with his church family.
Before retirement, Don was a committed supervisor at Trellex Morse for 32 years. After retiring, he enjoyed working at Gregory Antique Mall. Over the years, he was involved in many activities. He was a former mayor of Alexandria. He was instrumental in the formation of the Alexandria Fire Department and had been fire chief. Don also helped get county water started in Alexandria. He served as trustee of Mount Salem-Wyaconda Southern Baptist Association. He was also a member and vice-president of Dollars for Scholars. One of his many expressions of care was shown in donating over 20 gallons of blood throughout his lifetime.
Funeral services were held Wednesday, November 5, 2008, at 10:30 a.m. at Wilson Funeral Home in Kahoka with Tim Smith and Randy Ewart officiating. Burial was in the Frazee Cemetery.
Memorials were suggested to the Alexandria Baptist Church, Dollars for Scholars, or the
American Cancer Society (Clark Co. Relay for Life).
---
There are currently 26 condolences.
Darryl Ridgely
Tuesday November 18, 2008 at 10:49 PM

Connie, I just heard about Don going home to be with the Lord. I always enjoyed visiting with him and hear him talk about the Lord. I will be praying for you and your family. Darryl Ridgely
Randy & Kathy Alvis
Friday November 14, 2008 at 3:04 PM

So sorry for your loss, may God be with you.
Wayne & Pam
Tuesday November 11, 2008 at 3:47 PM

Connie, Troy, Lori & Family. Donnie's service was such an honoring tribute to an exceptional man. The evidence of his love for God and his family was played out in his daily walk. We are all richer for having known him. Connie, you will always be his sweetheart. Jesus comfort you all.
Shirley Johnson (Lapsley)
shirley1970@live.com
Monday November 10, 2008 at 9:34 PM

Connie, I am so sorry to hear about Don. He will be greatly missed. I always loved talking with Don. You are in my thoughts. Shirley
connie and family
Wednesday November 5, 2008 at 8:57 PM

There are no words to even take the edge of pain away but the strong faith in Jesus Christ will take the pain and make so many memories come from the depth of your mine to help in the healing. Connie you know I'm only a phone call away. We were so sorry not to be there but illness prevented it. Love Penny & Jerry
Justin Gregory
redsoxfan_001@hotmail.com
Wednesday November 5, 2008 at 7:52 PM

I'm Rich Gregory's Son Justin. I'm Sorry To Hear About The Loss and Not Being Able To Make The Funeral. But From The Times I Have Meet Donnie He Was A Great Man and A Role Model.
Sandra Sparks
Wednesday November 5, 2008 at 10:44 AM

It is a hard thing for ones left here on earth but I know you have the assurance from the Lord that Mr. Gregory is in his heavenly home and free of pain. This means so much. I pray that God will give you comfort in this time of sadness.
Corey Gregory
Wednesday November 5, 2008 at 4:45 AM

so i am a world away and i cant come home. but always remember that i love you grandpa and i will come home soon. i will do my best to take charge like you have always done, you will always be a part of me and the way i raise my family. Grandpa you are my hero and i thank you for all that you have done for me and my family. i will be a better father and a better person because of what you have taught me. know that i will always be there for grandma, and dad, and i wish i could have seen you more. but this war wont stop for me and i am doing my best to make it home and be a better place, just like you did. you are home now and that is the best place you can be. with all my heart and body, your grandson corey
Renee (Morgan) Schofield
schofield@kpunet.net
Wednesday November 5, 2008 at 12:22 AM

To the Gregory Family, My sincerest sympathy in the loss of Don. I remember his quiet generosity. Never faltering with his kindness. God will lift you up and guide you through this trying time. Know that you are lifted up in prayer. The families of Jim & MarScine Morgan ~Forever Alexandrians.
Michael K. Day
Tuesday November 4, 2008 at 9:53 PM

Psalm 52:8-9 Martha and I send our heartfelt condolences. Mike Day
Shauna Brooks Whitaker
danielshauna@msn.com
Tuesday November 4, 2008 at 8:26 PM

Dear Gregory family, I am so sorry to hear of the crossing of Donnie. He was a big part of my spiritual growth in my teenage years at Alexandria Baptist Church. I owe him alot of thanks. Know that he is in a better place. Much love to all.
ART AND MARILYN BARRY
Tuesday November 4, 2008 at 6:24 PM

Dear Connie and family-PLEASE ACCEPT OUR SYMPATHY-GOB BE WITH YOU!
Randy & Penny Sheriff
Tuesday November 4, 2008 at 3:59 PM

I spent the day thinking of Donnie. Of course, I cannot think of Donnie without thinking of you Connie, as well. Donnie will be missed and his absence is great. Free of the chains of this World, I know you will carry on with typical strength and grace despite such a tremendous loss. May your memories of Donnie serve to provide you comfort in your loss, until you meet again.
Ruthie Fulton
chickadee_09@yahoo.com
Tuesday November 4, 2008 at 3:58 PM

Lori and family, Just wanted to let you know that I am praying for your family at this time. It is a great comfort to know that he is now with his Lord and Savior whom he loved greatly. May God continue to hold you in the palm of His hand and give you the strength you need to go on. In Christ's love, Ruthie
Heather Cottrell
Tuesday November 4, 2008 at 3:02 PM

I just wanted to let you know I am sorry for your loss. I worked with both Caleb and Christa at HLG in the library. I always heard that Mr. Gregory was a very special guy. We can take comfort in knowing he is in a better place now.
Tim and Julie Fleer
Tuesday November 4, 2008 at 1:54 PM

Please know that you and your family are in our thoughts and prayers. It's such a blessing when you know your loved one is home in Heaven but we know you will miss him greatly. And, after reading your Dad's obituary, we are sure you have tons of wonderful memories to comfort you. God bless you all!
judy and danny mittelberg
Tuesday November 4, 2008 at 1:19 PM

Connie, We are so sorry that you are going through this difficult time. You remain in our prayers. Saying good-by is never easy but it's a great feeling to know they are on the other side enjoying that life and will be there to welcome you home when God calls you. May you feel the comfort and peace that only can come from our Father and may He wrap His love around you like a warm planket on a cool knight. We continue to keep you in our thoughts, Danny and Judy Mittelberg
Carolyn Johnson & Dave Hanan
Tuesday November 4, 2008 at 12:26 PM

Our deepest sympathy to Don's family. I had the pleasure of meeting Don in Iowa City when we were there with my son David Hanan. Dave worked with Don at Trellex and thought very highly of him.
Karin Althoff
Tuesday November 4, 2008 at 10:02 AM

My prayer is this: May you keep the moments of joy that you had with him in your hearts. And find deep peace in knowing that he is in the arms of the One that loved him even more then you could.
Dan & Carla Steinbeck
Tuesday November 4, 2008 at 1:12 AM

Family, you are in our prayers. God be with you.
Kelly (Madden) Hackett & Family
khackett@iowatelecom.net
Monday November 3, 2008 at 11:38 PM

Our thoughts and prayers are with you during your time of grief. It was my honor to know, love, and be loved by Donnie. His "second daughter" will miss him. I take comfort in the fact that I know he is with the Lord, Mom, and Kim! Love, Kelly, Jerry, Alycia & Andrea
Ann Abell Guymon
Monday November 3, 2008 at 10:48 PM

Connie and family, please know you are in my thoughts and prayers. I feel I understand somewhat and will pray accordingly. God is our refuge and holds you in the hollow of his hand.
Jon and Rose Ragan
jonandrose1@aol.com
Monday November 3, 2008 at 10:47 PM

Connie and Family Sorry to hear of a wonderful class mate passing away. I can remember the great times we had at Kahoka High. Time has changed us all; especially our personal relationship with Jesus. My family will continue to pray for you all. God Bless.
Gene and Pearl Spurgeon
Monday November 3, 2008 at 6:09 PM

Dear Connie and Family, we love you so much and Pearl and I as well as our church is praying for you the the service. We plan to be with you at visitation and also to attend the service. We are blessed in knowing the Donnie's long fight with cancer if finally over, and now knows the love and fellowship of his dear Lord and savior, Jesus Christ.
Rob & Linda Robertson
roblinda@centurytel.net
Monday November 3, 2008 at 2:15 PM

Dear Connie, Lori, and family: We are thinking of all of you during this time of sorrow and praying for you. In Christ's Love, Rob & Linda
Linda Fowler
Monday November 3, 2008 at 10:41 AM

Connie and Family, So sorry to hear of your loss, my thoughts are with you. Linda
---