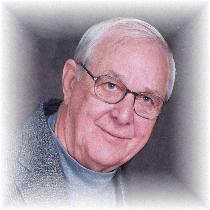 David Lee Vest (1933-2009)
David Lee Vest, 75, of Ashland, Ky., husband of Linda Hughes Couch Vest, died Monday, April 27, 2009 in Kings Daughters Medical Center in Ashland.
He was born Sept. 8, 1933, in Summers County, W.Va., a son of the late Wylie Cunningham and Ora Leta Lane Vest.
He was also preceded in death by his first wife, JoAnn Thompson Vest in 2002; and a son, Jeffrey Lee Vest.
He was a retired maintenance planner in the blast furnace of Armco Steel Co. with 37 years of service, and was a Korean War U.S. Air Force veteran.
He was a member and deacon of the First Baptist Church in Russell, a member of Ky. Baptist Builders, where he had extensively traveled, a volunteer with Southern Baptist Disaster Relief, a volunteer of many mission trips, a member of the Masonic Blue Lodge and Smith Lodge No. 775, and extremely active with River City Amateur Radio Association Call No. KZ4G, Quarter Century Wireless Association, Iron City Antique Auto Club, and American Legion Post No. 76. He was an avid fisherman, a big UK basketball sports fan and a fan of NASCAR.
David and Linda traveled extensively and lived another lifetime in five years.
Additional survivors include a son, David J. Vest and his wife, Janet, of Goshen, Ohio; a daughter, Joy Wright and her husband, Larry, of Midland, Mich.; a brother, Jason Clifford Vest and his wife, Louise, of Sumter, S.C.; a daughter-in-law, Sharon Gibbs and husband, David, of Washington Court House, Ohio; and five grandchildren, Jonathan Wright and his wife, Amanda, of Gainesville, Fla., Joseph Wright of Oxford, Miss., Janda Wray Vest of Cleveland, Ohio, Landon Gibbs of Washington Court House, and Lee Conwell Vest of Goshen.
The funeral will be at 11 a.m. Wednesday, April 29, 2009, at First Baptist Church-Russell by the Rev. Wayne Kuhner and the Rev. Johnny Riley and eulogy by Jonathan Wright. Burial will be in Hillcrest Cemetery in Kenova, W.Va.
Friends may call from 5 to 9 p.m. tonight at the church.
Pallbearers will be David Vest, David Gibbs, Jonathan Wright, Larry Wright, Landon Gibbs, Joseph Wright and Larry Adams.
Those wishing may make contributions to Ky. Baptist Builders Association, c/o First Baptist Church-Russell, P.O. Box U, Russell, KY 41169.
Online condolences may be sent to www.steenfuneralhomes.com.
Steen Funeral Home in Ashland is in charge of arrangements.