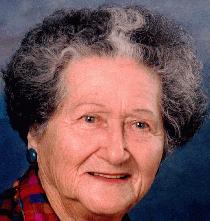 Funeral services for Ruth Hollomon Fancher, 92, of Lumberton will be 10am Saturday August 22, 2009 at Farmer Funeral Home with interment following in Cannon Cemetery in Merryville La. Visitation will be from 5-8pm Friday at the funeral home.
She was born Virgie Ruth Sapp, Dec.18, 1916 to Lettie and Calvin Sapp, in Blewitt Louisiana.
Mrs. Fancher died August 18, 2009 at Village Creek Rehabilitation Center in Lumberton.
She was a member of Central Baptist Church of Evadale,
Mrs. Fancher is preceded in death by her husband Buford Eli Fancher.
She is survived by siblings; Evelyn Savoy of Moss Hill and Priness Sapp of Sour Lake; children, Georgia Camille Theriot of Beaumont; Michael Eugene Hollomon of Hemphill; Geri Suzanne Ward of Gatesville; Mary Martha Downing of Lumberton; Gus Martin Hollomon of Cameron; Jim Stewart Hollomon of Beaumont; and Paula Joyce Copty-Duplant of Hemphill; sixteen grandchildren and twenty six great grandchildren.
In lieu of flowers the family request contributions be made to, Some Other Place, 590 Center, Beaumont TX 77701.