1939 - 2010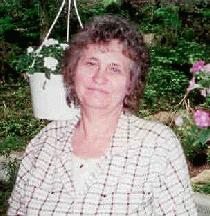 Nancy Lucille Moss, 71, of Proctorville, Ohio, passed away Wednesday, July 14, 2010 at home, surrounded by her loving family. She was born March 13, 1939 in Mulberry Gap, Tennessee, daughter of the late Clyde and Georgia Edens. She was a member of the Alanthis Hill Baptist Church, Tennessee. Lovingly known as Mom, Ma, and Granny, Nancy was above all, caregiver, nurturer and friend to the countless numbers who knew or met her. Her spirit was wide enough to carry dozens, bright enough to lighten even the darkest day, and sharp enough to bring out the best, and sometimes the most surprising, in us all. If you were hungry, she saw to it you were fed; if you were sad, she delivered up a plateful of smiles; if lonely, she spent hours of her own time-of which she had priceless little to spare-to see to it your loneliness did not get the best of you. Taking care of others was what she did best, and she did that well, in a way only Nancy could deliver. The world is sadder without her, and those of us who knew and loved her are forever changed for the better. In addition to her parents, she was preceded in death by her husband, Dallas Moss, II; daughter Georgia Lewis and grandson Tommy Lewis. She is survived by seven sisters Madge (Roy) Lynch, Ruth (Tom) Louthan, Phyllis (Tootie) Ramsey, Sue Edens, Betty (Joe) Whittaker, Wanda (Ray) Cinnamon, Lois (Harmon) Brooke; one brother Hoy (Dorthy) Edens all of Tennessee; five children Janet Moss, Mary (Victor)Goodall, Dorsel Moss, Sara Jarrell and son-in-law Tommy Dale Lewis all of Proctorville, Ohio and Dallas (Lora) Moss of Tampa, Florida; eleven grandchildren Nikki, Johnny and Brent (Ambra) Lewis, Nancy (John) Booth, Jacob (Clarissa Hoke) and David Goodall, Lindsey and D.J. Moss, Jeffrey, Jeremiah and Brittany Jarrell; three great grandchildren Dustin Lewis, Logan and Grace Booth, and special nephew Tommy (Amy) Butcher; two sisters-in-law Mary Hussell, Leota Milstead and many nieces, nephews and friends that will miss her greatly. Special thanks to Linda and Christi of Hospice of Huntington. Funeral services will be conducted 1:30 p.m. Saturday, July 17, 2010 by Rev. Keith Cinnamon at Hall Funeral Home, Proctorville, Ohio. Burial will follow in Miller Memorial Gardens, Miller, Ohio. Visitation will be held 12:30 to 1:30 p.m. Saturday, July 17, 2010 at Hall Funeral Home, Proctorville, Ohio. Condolences may be expressed to the family at www.timeformemory.com/hall.
---
There are currently 11 condolences.
Kristina Wysong Rousselle
Tuesday July 20, 2010 at 9:31 PM

Dallas and Family, I am sorry to hear about your loss. My thoughts and prayers are with you.
Patty Conzett
Saturday July 17, 2010 at 9:22 AM

Tommy and Amy and the entire Moss family, I am so sorry for your loss and want you to know that I am thinking of you all. Godspeed Nancy, Godspeed.
Jeannie Perry
Saturday July 17, 2010 at 6:42 AM

Janet & Mary I was so sorry to hear of your mom's passing. You are in my thoughts and prayers. I always enjoyed waitng on her at the grocery store. Just be happy knowing she is now free of pain & suffering.
paul e moss
genemss@yahoo.com
Friday July 16, 2010 at 9:56 PM

my dear aunt nancy was a true gift from god above, she would help you in your darkest hour of time and make you smile in the best of times. i will always love her and hold a warm spot in my heart and soul for her and her kindness. she would always have just that one special word that would get you threw your bad times. i will never forget the good times and staying with her and my uncle junior with all the kids the best of times love always paul moss and family
Tom and Sandra Curry
Friday July 16, 2010 at 5:36 PM

Moss family, We are so sorry to hear of Nancy's passing. Please know that you are in our thoughts and prayers. She was a dear friend. Tom & Sandra Curry
Kathi Waugh (Ramey)
Friday July 16, 2010 at 7:20 AM

Dear Moss family So sorry about your loss of your mother..My thoughts and prays are with you at this time of sorrow
Estell Ellis
dadzgirl@zoominternet.net
Thursday July 15, 2010 at 10:49 PM

Sara and the boys, I am sorry to hear about the passing of your momma/mawmaw. I know she will be missed by all who knew her! Brittany will be here for you and her brothers as will I. Like the above says the world will be sadder with out her and this is true! I always loved to call and here her stories she had tell! RIP Ms. Moss!
Valerie and Tim
Thursday July 15, 2010 at 7:08 PM

Tommy, Amy and family, We are so sorry for loss. Sending you hugs, prayers and positive thoughts to help you in the coming days.
Lisa Medors Ramsey
Thursday July 15, 2010 at 4:18 PM

Dallas and Family, Your Mom was always a bright light...laughing and spreading cheer wherever she went...I always remember her at the FHS football games...My heartfelt sympathy to all of you. Lisa Medors Ramsey
Bonnie Berry
Thursday July 15, 2010 at 3:00 PM

Tommy, Amy & Family, I am sorry for your loss. May God comfort you at this difficult time.
Pam(Scarberry)Gorby
pamegor@aol.com
Thursday July 15, 2010 at 2:52 PM

Dear family, So sorry for your loss. Hang onto your precious memories & she will always be near. God bless you & comfort you through your times of sorrow.
---