1925 - 2010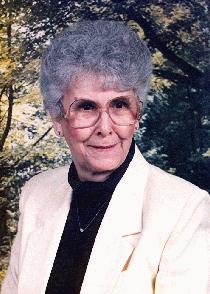 Della Elizabeth Colvin, 84, of Milton, W.Va., died September 10, 2010 in Emogene Dolin Jones Hospice House. She was born November 28, 1925 to Marshall and Lillie (Meadows) Flora, Glenwood W.Va. In addition to her parents, she was preceded by her sisters, Amanda Jenkins, Neva Meadows of Glenwood, Beulah Chapman of Ona, and Irene Templeton of Milton; brothers, Otis Flora, Harold Flora of Ona and Oakley Flora of Hurricane, W.Va. She is survived by her best friend, companion, and the best man in the world, Aaron Workman of Barboursville, W.Va. She is also survived by her two sons and their wives, Cledith and Judy Meadows and Linford and Deborah Meadows both of Milton, W.Va.; sister, Velva Ayers of Ona, W.Va.; grandchildren, Stephanie Blake (Charlie) of Milton, W.Va., Scott Meadows (Cindy) of Maineville, OH., Eric Meadows (Andrea) of Fraizers Bottom, W.Va., Heather Meadows of Milton, W.Va.; great grandchildren, Trey Blake of Milton, W.Va., Elizabeth, Ashley, Aaron and Bridget Meadows of Maineville, OH. Funeral services will be conducted 1 p.m. Tuesday, September 14, 2010 at Wallace Funeral Home, Milton with Rev. Allen Stewart officiating. Burial will follow in Bias Chapel Cemetery. Friends may visit from 6 to 8 p.m. Monday, September 13, 2010 at Wallace Funeral Home, Milton. Online condolences may be expressed to the family at www.timeformemory.com/wallace
---
There are currently 8 condolences.
Valerie Mann
Tuesday September 14, 2010 at 9:46 AM

I met Della at the American Legion. She always said hello and enjoyed a good laugh. I really enjoyed talking with her. She will be missed.
The Wenck family
Monday September 13, 2010 at 3:55 PM

Heather, We are sorry for your family's loss. When my grandpa died I tried to focus on all the good times we had together, and tried to remember how thankful I was to have had him in my life, and that helped some. Best wishes for you and your family.
Geneva
Monday September 13, 2010 at 1:28 AM

I met you at the hospital were I work and we became friends..Always joking and laughing..I could always count on your beautiful smile and a joke to tell me..You will always hold a place in my heart..Rest in peace my friend..You will be dearly missed..
Charity McCallister-Conner
Sunday September 12, 2010 at 4:38 PM

Heather, I am sorry for your loss. May your grandmother rest in peace with our Heavenly Father.
Amber (Deal) Ouillette and Family
Sunday September 12, 2010 at 2:05 PM

I remember Thanksgivings at Heather's and playing "Know the USA" after we had all eaten, and how you would poke fun at Linford and would spend all day with us...you always looked wonderful and happy and that is how I will remember you, on my favorite holiday with a smile on your face and a joke comeing from your mouth, your spirit will live on in our memories and we shall cherish them everyday.
Ron and Jean Lasher
Sunday September 12, 2010 at 12:04 AM

Linford and Debby, WE were sorry to hear your Mom passed away.We know she will be sadly missed by everyone. You are in our thoughts and prayers.
Heather Meadows
Saturday September 11, 2010 at 7:39 PM

I remember putting snap poppers on your car door (aka the batmobile :-) and dad playing the trick on you with your lamp, us mean kids putting blocks under your tires, Christmas day at your house, and you babysitting me and Scott sometimes on New Years eve. You'd put lais and happy new year crowns on our cabbage patch dolls. You are the greatest Mamaw in the world!
Heather Meadows
Saturday September 11, 2010 at 5:17 PM

I love you so much Mamaw. I'm so glad your not in pain anymore. XOXOXO
---