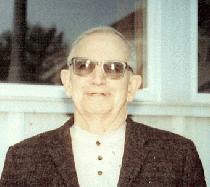 Hubert LaMar Plank, 80, of Quincy, died at 2:50 PM Tuesday, June 12, 2012, at Green Hills Center, West Liberty.
He was born October 2, 1931, in Quincy, a son of the late Lewis and Florence B. Huber Plank
On April 7, 1957, he married Marjorie Ruth Shoe in Quincy and she died January 9, 2000. He was also preceded in death by a son; Jonathan Andrew Plank and a special friend Eleanor Schilliger.
Survivors include a Son; Joseph (Dixie) Plank of Quincy, three Daughters; Laurie (Rudy) Klaas of Dakar, Senegal, Kathy Purtee of Rushville, IN and Minnie (Lyle) Herrick of Bellefontaine, two Sisters; Barbara (Jim) Skacal of Massillon, and Mary Sue (John) Dearwester of Bellefontaine, a BrotherIn-Law, Sam Shoe of De Graff, a Sister-In-Law, Bethana Ellis of South Carolina, nine Grand Children; Derrick (Kristie) Purtee, Whitney Purtee, Annie Klaas, Rudy Klaas V, Jonathan, Joshua, Jordan, and Jamie Herrick, a step Grandson; Randall (Angy) Clem and one step Great Grand Child.
He was a retired mechanic having worked at Plank Tractor sales in Quincy and for Jack Smart at New Carlisle Tractor for 40 years. He was a 1949 Graduate of Quincy High School, a member of Quincy United Methodist Church, Miami Grange in De Graff and was a U.S. Navy Veteran. He was a newspaper carrier for the Springfield Sun and the Dayton Daily News for 34 years. He was also an avid Cincinnati Red's fan.
Services will be held at 1:30 PM on Tuesday, June 19, 2012 at the Quincy United Methodist Church, with Pastor N. Matthew Wright officiating. Burial will be in the Huber Cemetery, De Graff. The family will receive friends at the church Monday, June 18, 2012 from 4 to 8 P.M. and one hour prior to the service at the church.
The family suggests memorial contributions be made to the Quincy United Methodist Church or Green Hills Center, West Liberty.