1940 - 2012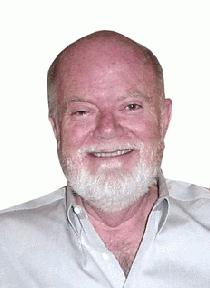 John Kenneth Roberts, 72, died July 1, 2012 at his home in Huntington, WV. John was originally from St. Marys, WV. He was preceded in death by his father John A. Roberts and mother Ruth Phillips Roberts. He is survived by his son, Stephen Roberts; daughter, Linda Roberts; sister, Jane Witten; daughter-in-law, Tara Roberts; future son-in-law, Kevin Hayes, and grand-puppy and sometimes antagonist, Mr. Hugs. He is also survived by his first wife, dear friend, and caretaker throughout his illness, Mary Roberts.John was a graduate of West Virginia University College of Engineering and retired from Westinghouse as a Senior Vice-President. He was a veteran of the United States Army. John had a very special passion for the Rolling Stones, and could spend hours not just listening to the boys but ensuring you knew every word and the meaning behind every song. He also enjoyed architecture, art, dining out, and red wine. He was a fixture during all of the years he lived in Huntington at Chili Willis Restaurant and left behind over 25 years of friendships from the many meals he enjoyed there. He also treasured a long-term relationship with Sharon Stone that we are all pretty sure was completely imaginary. But... one never does know. At Dad's request there will be no public service and the family will be holding a small private celebration of his life. In lieu of flowers please send donations to the American Cancer Association. Hall Funeral Home, Proctorville, Ohio assisted the family with arrangements. Condolences may be expressed to the family at www.timeformemory.com/hall.
---
There are currently 7 condolences.
Linda Arden
ashaarden@gmail.com
Thursday November 15, 2012 at 6:44 PM

I just heard. I wish you had contacted me..but I understand. Please accept my deepest heartfelt sympathies. He was amazing.
Don Spencer
Saturday July 14, 2012 at 1:22 PM

I was saddened this morning to hear of your loss. Your dad and I were childhood friends in St Marys and college roommates for two years at Marshall. Music anchored around the St Marys High School band was our passion during our high school years. We loved jazz during those years, particularly Stan Kenton and Dave Brubeck. (Check out the "peanut vendor" by Stan Kenton if you are not familiar with it.) Your dad did not get his drivers license immediately at 16 so we commuted everywhere together those last two years of high school. (Double dated the night of our senior prom.) Our freshman year of college, your dad, Gary Underwood and I shared a two bedroom apartment over on 7th avenue. Our sophomore year I took a room in a house on 6th avenue and your dad took a room upstairs in the same house. We both studied engineering. Our junior year your dad transferred to WVU and we started to lose touch. Upon graduation I went to work for PPG Industries (Pittsburg Plate Glass) and shortly there after transferred out to California with them where I spent the last 25 years of my career and I totally lost touch with your dad other than our 10 year reunion and our 50 year reunion. Your dad had a passion for everything he ever touched in his life. He was an amazing artist, had the quickest wit, an amazing sense of humor, and was loved by everyone who knew him. I was honored to call him" best friend" for most of my childhood. His passing makes the world a sadder place. May the peace of our Lord and Savior comfort you as you morn the loss of your father, brother and past husband. Sincerely, Don Spencer
Debbie Hackworth
redhead111548@yahoo.com
Monday July 9, 2012 at 8:12 AM

My condolences to Linda and Stephen on the loss of their father. I worked with Mary Roberts for many years and we have grown to be friends, and I realize how heartwrenching the loss of a loved one can be for the whole family.
Helen Garland
Saturday July 7, 2012 at 10:04 AM

Linda & Family, My deepest sympathy,thoughts and prayers are with you all at this time.
Jack Deakin
Friday July 6, 2012 at 4:35 PM

Steve, may your father and all the faithfully departed rest in peace. Jack.
Bill Webb
wwebb56473@aol.com
Friday July 6, 2012 at 1:22 PM

It is with both sadness and relief that I commemorate Kenny's passing. The sadness is for the loss suffered by friends, family and loved-ones; and the relief in knowing he's been released from the bondage of the body. I regret not seeing more of him in these most recent months. But knowing how private he ws about his condition, I want to think he would have preferred that. Anyway, It feels like I've lost an elder brother, as I've known him all my life. It was always a joy whenever "Le' Duke"(as I often called him) would show up. He was always positive, funny, bright and consistently mild mannered in his loving attitude. He was a bright light in my life and will remain so in perpetuity. I hope he knows how much he was loved. He will be missed by all who were fortunate enough to share a piece of this journey with him. Le' Duke rest in peace; we'll see ya soon. Godspeed to Mary, Stephen, Linda and Jane. You're all in my thoughts and prayers. May time restore the peace of of God's love. With sincere condolances, Bill 07/06/12
Margaret Valentine Kinney
mekinney@carolina.rr.com
Thursday July 5, 2012 at 10:10 PM

I remember John (Kenny) Roberts as he was the older brother of my childhood friend Janie Roberts. When we were kids he had a huge model plane hanging in his bedroom. I always through that was cool. I have happy memories of spending time at the Roberts home when I was a kid. I'm so sorry to hear about his passing.
---