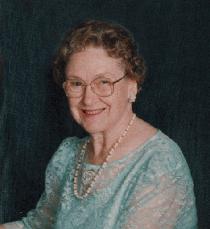 Ruth Todd McAdow was boren in Salina, Kansas, on March 12, 1916, Ruth Todd grew up as in the middle child with four brothers, and her parents, in Kansas City, Missouri, where she attended Westport High School and Westport Presbyterian Church. Her mother, Margaret Hill Todd, who graduated from Bethany College in Lindborg, Kansas was a fine artist in oil painting, and her father, Archilbald Todd was a CPA and professional Tenor, performing major roles in operas and oratorios all over the region.
Ruth attended Kansas City Junior College for three years, then Missouri Valley College in Marshall, MO for 2 more years where she graduated with majors in English and Biology. Here she met her beloved Mac, who was studying for the ministry. After teaching high school English in Bogard Missouri for one year, Ruth married Lewis Harlowe McAdow of Lexington, Missouri, and joined him in Lexington, Kentucky, where he attended Lexington Theological Seminary. Ruth loved academic life, and enrolled in a Masters Degree program at the University of Kentucky, where she concentrated on English and French Literature, and developed her thesis: an annotated bibliography of English poet Percy Bysshe Shelley.
Ruth recalls her college years as the first absolutely happy years of her life. She loved doing research, singing in the A Capella Choir, and studying with fine professors. Books continued to be an enduring pleasure for Ruth, and she did something very few have done: she kept a careful, lifelong record of every book she read from the age of 14. Among her list are dozens of titles in French and German, languages in which she was fluent. Studying German again many years later, her Kilgore College professor described her as "the best student I ever had!"
Ruth and Mac's life together covered 61 years of marriage and various Disciples of Christ, (Christian Church) pastorates in Kentucky, Mexico, Missouri, Indianapolis, Houston, Kilgore, and San Augustine, Texas (Memorial Presbyterian Church). With the births of their four children, Ruth's focus changed from academics to home and family, with church always at the center of their life. Ruth was active in Christian Women's Fellowship in each church, and served two terms as President of Texas State Minister's Wives Association (Disciples of Christ), which she considered a major contribution to her husband's career. A member of PEO for over 60 years, Ruth served that philanthropic and educational organization as president of Chapter H. Houston, and later as a member of Chapter BO, Tyler.
Ruth describes some highlights of her life to be the many summers she spent with her grandparents and cousins in Kansas, her college years, her marriage, the births of their four children -- and, later six grandchildren -- and travel with Mac all over the world. She especially enjoyed their camping trips in United States, and Canada. Just as Ruth enjoyed summers with her grandparents, she and Mac gave their own grandchildren a big dose of East Texas every summer. Their home on San Augustine's City Lake became a very special place for each of their children and grandchildren.
An extraordinary women, Ruth McAdow will be remembered for her gentleness, honesty, loyalty, her practical and positive approach to life, her love of education and the arts, and her unwavering strength and grace.
At the age of 96, Ruth has survived all her brothers, her cousins, Mac's four sisters, and Mac himself, who passed away in May, 2000. She is survived by her four children, Margaret Barber (David), Paula Osborne (Tom), and Lewis H. McAdow III, (Lurie), and Thomas Todd McAdow (Patricia), who live in Colorado, California, Houston,and Holland, respectively; her six grandchildren, Christopher Todd Garris, Amy Garris (Jeff Worst), Anna Johnson (Allen), Ellen Jorgenson (Eric), Kathryn Beaty (Mike), and Lewis H. McAdow IV who live in Alaska, Colorado, Seattle and Houston.
After residing for 30 years in San Augustine, Ruth has endeared herself to many in this community and will be greatly missed by all who her knew her. The McAdow children and grandchildren are grateful for the fine people of San Augustine, who enriched their parents' lives in so many ways, and cared lovingly for their mother and grandmother in her final years.
Memorial Services and A Celebration of Life will be held on 11 a.m. Thursday, July 26, 2012, in the Memorial Presbyterian Church in San Augustine, Texas, with Dr. Sam Wayman officiating.