1932 - 2012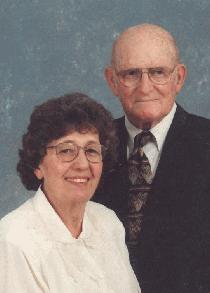 Eva Mae "Verlie" Lee, 80, of Salt Rock, WV, was united with her husband in Heaven on Saturday, July 14, 2012. Funeral services will be conducted at 1:00 pm Thursday, July 19, 2012 at the Wallace Funeral Home & Chapel, Barboursville, by Pastor Jeff Sizemore. Burial will be in Baylous Cemetery. She was born April 21, 1932 in Huntington, WV, a daughter of the late Hiram "Chub" and Sarah Gilkerson Estep. Eva was a member of Bloomingdale-Salem Baptist Church, the Harvest Club at the First State Bank in Barboursville and was a 4-H leader for several years. She was preceded in death by her husband, Alvin "Red" Lee, one sister, Irene Hatfield, and four brothers, Earnest, Sidney, Cecil and Clovis Estep. She is survived by one daughter and son-in-law, Annette and Roger McComas of Hamlin, WV; four sons and three daughters-in-law, Danny and Sharon Lee of Glen Allen, VA, Timothy and Patricia Lee of Salt Rock, Anthony Lee who lived with her and was her caregiver, and Stacy and Kimberly Lee of Winchester, VA; one brother, Alvin Estep of Huntington; eleven grandchildren and three great grandchildren. Online condolences may be expressed to the family at www.timeformemory.com/wallace. Visitation will be from 5-8 pm Wednesday at the Wallace Funeral Home, Barboursville.
---
There are currently 10 condolences.
Karen Curran
kc4pole@gmail.com
Saturday July 21, 2012 at 1:55 PM

I am sorry to hear of this the night of the funeral. Verlie was always good to me. I will never forget how we went to family sites one day and she told me about the family history. I pray divine comfort for all the family.
Greg & Georgia Pinkerman
Friday July 20, 2012 at 1:34 PM

Sorry for you loss, I know she is in a better place now. May God Bless your family in this time of sorrow.
Mabel and Marsha Adkins
mrshadkn@frontier.com
Thursday July 19, 2012 at 2:28 PM

So sorry to hear of your loss. Eva was always such a nice lady, we have many fond memories of her and Red over he years. Our thoughts and prayers are with you all.
Jack and Jeanne Seckman
Thursday July 19, 2012 at 1:38 PM

Our thoughts and prayers are with your family during this difficult time.
Debbie (Childers) Rogalski
Thursday July 19, 2012 at 12:21 PM

Anthony, Danny, Stacy, Timmy and Annete: Aunt Eva was a wonderful person, full of fun and life. I am so glad we were able to see her in May. Love and blessings to all of you; you are in my prayers.
Julie Bruns
Thursday July 19, 2012 at 11:09 AM

Stacy, Anthony and Family, Keeping you in our thoughts and prayers. Much love and hugs to you from all of us.
Kelly Hogsett
Kwshivel@aol.com
Thursday July 19, 2012 at 6:36 AM

Eva was a bright and cheery lady who inspired and made each and everyone one of us happier each day we spent with her. Her memory will live with us all for the rest of our lives. I am very thankful I had the honor of knowing her. She was a wonderful lady. Best wishes to her family in the coming days. Anthony has earned a special star in heaven for his undying devotion to his mother.
J Allen
Wednesday July 18, 2012 at 11:05 PM

My thoughts and Prayers be with you all during this sad time. I am sure her and Red are on Heaven's porch rocking away and catching up.
Michele Wetherholt Nelson
Wednesday July 18, 2012 at 8:30 AM

Stacy, so sorry to hear of the passing of your mother. She was always very kind and I remember her sweet smile. Love and prayers that God will comfort you and your entire family during this difficult time.
Tammy Franklin Champion
Tuesday July 17, 2012 at 5:46 PM

Annette and Tim, So sorry for your loss. My Thoughts and Prayers are with you and your family.
---