1952 - 2012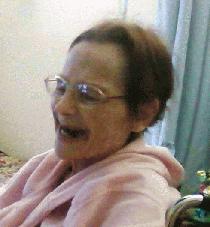 Nancy M. Slaydon passed away on September 16, 2012. Visitation will be held at Forest Oaks Funeral Home and Crematory on Tuesday, September 18, 2012 from 5:00 p.m. - 7:00 p.m.. Services will be the following day on Wednesday, September 19, 2012 at 2:00 p.m. at the funeral home with private interment to follow at the Evergreen Cemetery. A native and lifelong resident of Jasper, TX. she was employed as a X Ray Technician in Newton , Jasper and Houston Hospitals before retirement. Survivors include her mother Jacqueline "Jackie" Strother of Jasper, TX. daughters Cara Slaydon-Dean and Stephanie Bussey both of Jasper, TX. a brother Clinton Smith of Leesville, LA. and a sister Mary Wilson of Jasper, TX. as well as two grandchildren Mikayla and Jeremiah. Condolences can be posted at www.forestoaksofjasper.com
---
There are currently 5 condolences.
Aquanetta Issac
aissac9@hotmail.com
Saturday September 22, 2012 at 2:43 PM

"Weeping may endure for a night,but joy comes in the morning"..Stephanie and the entire family of Nancy.I want to express my deepest condolences to you during this time of breavement.. I remember getting to know Nancy as I cared for her @ Shady Acres..May God continue to carry you & give you strenth. Much Love
Jennifer Job Seale
Wednesday September 19, 2012 at 2:26 PM

I am so sorry for your loss. I remember meeting Nancy while visiting with Stephanie while we were close friends in middle school together. To have given birth to Stephanie, she must have been a smart, funny, talented lady. Many prayers and thoughts to your family.
Kristi Moss
Wednesday September 19, 2012 at 9:05 AM

Stephanie, Sorry for the loss of your Mother. Prayers for your family at this this of saddness.
Kay Duran
kaymack325@yahoo.com
Tuesday September 18, 2012 at 10:33 PM

Mary and Ms. Jackie I am so sorry to hear about Nancy. Cruz told me this evening that he made it by and got to visit. you are in my prayers.
Joleen Lemoine
Tuesday September 18, 2012 at 12:18 PM

Thoughts and prayers are with you and your family during this difficult time. Peace be with you.
---