After the funeral, several items will still require attention. Most of them, fortunately, can be (reasonably) postponed until you feel ready.
As soon as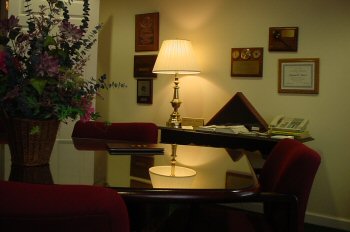 possible, write notes to those who offered special help-such as bearing the casket and assisting in the service-sent flowers, or contributed to designated charities. Use personal stationery or cards provided by your funeral director. An ample description of the floral tribute on the back of the sender's card will allow you to make special reference to the flowers.
You may wish to acknowledge letters of sympathy; however, answering notes and cards is not necessary.
Handling Letters and Calls
You will receive mail and phone calls for the deceased for some time. Try not to let these become upsetting. Remember some people may not have been informed.
Nature, time and patience are
the three great physicians.
Proverb
A monument or marker can be installed shortly after the funeral, or you may postpone this decision. You may select an individual monument engraved to your specifications or a family monument marking two or more adjoining graves. A family monument allows pertinent data to be inscribed in matching lettering on the same stone. Check with the cemetery official about any size or style restrictions before you order.
When the deceased's house or apartment is vacated, survivors are often left with substantial personal belongings. Although sometimes difficult, this task should be performed by close family members with the executor's or administrator's prior consent. Family members will recognize items of sentimental value or other personal significance. They might also discover something of otherwise overlooked importance.
After the family's careful review, often some unwanted items remain. A charitable organization can put clothing, tools, furniture, and other household items to good use.
Sorrow makes us all children again.
Ralph Waldo Emerson