When someone you love passes away, numerous responsibilities require your immediate attention.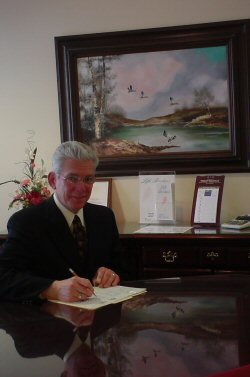 Your first priority, naturally, will be to comfort those most affected. Then when you are able to focus on arrangements, you should first call the funeral home and clergy person preferred by the family.
Next, other family members, close friends, neighbors, and business or professional associates need notification. You may assign this duty to another family member or close family friend, so you can concentrate on other important matters.
Your funeral director is always ready, at a moment's notice, to serve you completely. You will meet as soon as possible with your funeral director to review personal information about the deceased in order to complete the death certificate and prepare the obituary. Before your meeting, you should also learn whether the deceased had preplanned for the funeral.
This set of instructions will help you carry out the wishes of the deceased and reduce the decision-making burden.

Life is eternal;
and love is immortal;
and Death is only a horizon;
and a horizon is nothing save the limit of our sight.
Rossiter Worthington Raymond
The Obituary Announcement
With your assistance, the funeral director will prepare the obituary announcement or paid death notice for the newspapers; this notifies people of the time and place for the visitation and funeral services. He or she can also notify papers in other localities-often former homes of the deceased-as well as suggest the best notices to send to friends and family.
Unfortunately, you'll have a lot of paperwork. But you won't have to contend with it on your own. Your funeral director can assist you in securing all the benefits rightfully due your family.
He or she can:
help you obtain the required certified copies of the death certificate necessary to file for insurance benefits;
send an appropriate form of the death certificate to the district Social Security office;
direct you to your nearest Social Security office to determine current benefits-including Survivor and Medicare-and file a claim to help pay the final medical bills if the deceased was 65 or over;
obtain an American flag for placement on the casket for any honorably discharged veteran;
help you apply for a veteran's grave marker and arrange for burial in a national cemetery for eligible veterans and family members.
Blessed are they that mourn;
for they shall be comforted.
Matthew 5:4