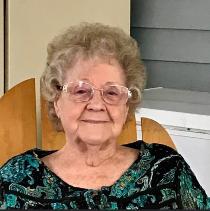 Doris Avalene Miller
WHEELERSBURG-Doris Avalene Miller, 97, of Wheelersburg passed away Sunday, March 19, 2023 at SOMC Hospice in Portsmouth. Doris was born May 30, 1925 in Scioto County to the late Nathan Frazie and Della Brown Frazie. Doris was a homemaker and a member of Sciotodale Freewill Baptist Church. In addition to her parents Doris was preceded in death by her husband, Harold Lloyd Miller December 31,2013. She was also preceded in death by a son, Lawrence Miller; her brothers, Ralph, Earl, Virgil, Russell, Clifford and Nathan, Jr.; her sisters, Goldie Martin, Thelma Johnson, Bessie Belcher and Wanda Day and a grandson, Matthew Miller. Doris is survived by three sons, Robert, Ralph and Bryan Miller; two daughters, Patricia Kayser and Peggy Maggs; twelve grandchildren; twenty-four great grandchildren and five great, great grandchildren.
Services for Doris will be 1:00 pm Thursday, March 23, 2023 at Harrison-Pyles Funeral Home in Wheelersburg with Pastor Aaron Reed officiating. Interment will be in Memorial Burial Park. The family will receive friends and family at the funeral home Thursday from noon until the 1:00 pm service. The family requests Memorial contributions be made in Doris's name to SOMC Hospice. Condolences to the family may be made at www.harrison-pyles.com.