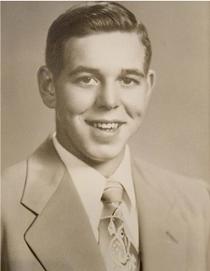 In Loving Memory of Carter Johnson
Book of Psalms in the Old Testament. Psalm 51:10
"Create in me a pure heart, O God, and renew a steadfast spirit within me."
November 30th, 1934 - November 2nd, 2023
It is with heavy hearts that we announce the passing of Carter (Toot) Johnson, who left this world on November 2, 2023, to reunite with our Lord and Savior Jesus Christ. Carter was a beloved husband, father, grandfather, brother, and friend. A graduate of Marshall University with a master's degree in Geography, he devoted thirty-seven years to Armco Steel in Ashland, KY working in the hot strip maintenance. He was a member of Shawnee State Golden Bears, Western Sun 91 Masons, El Hasa Shrine, American Legion, Elks, and the Steel Workers of America.
Carter was a proud patriot who loved his country and the military. He retired from the Army as a Master Sergeant and fulfilled eight years of service to the Air Force during the Korean War. Throughout his lifetime, Carter was known for his enthusiasm for motorcycles, both Harleys and Goldwing's. A true motorcycle rider, he was a free spirit and loved to bike all over the United States with his wife, Janet. He enjoyed nature and treasured wildlife.
Born on November 30th,1934 to Wilson and Thelma Johnson of New Boston, OH. Carter was one of five siblings and grew up in Wheelersburg OH. It was there that he met his wife, Janet, at Pops Drive-In.
Carter is survived by his loving wife of 62 years Janet Johnson (Willis). Sister, Barbara Bennett of Boca Raton, Fl. And three sons: Tim Johnson of Temple TX, Dr. Wesley and Nancy Johnson of Sarasota, FL, and Wade and Melanie Johnson of Richmond, KY. Grandchildren Brandelyn (A.J.) Roberts, Zachary Johnson, and Cameron Johnson, along with a host of extended family members and friends. His memory will be forever cherished, and his legacy left behind is a testament to a life well lived.
Services for Carter Johnson will be held November 7, 2023, from eleven to one o'clock at Harrison Pyles Funeral Home 11623 Galla Pike Wheelersburg, OH 45694. Visitation from eleven to noon, with the funeral following. Condolences to the family may be made at www.harrison-pyles.com.