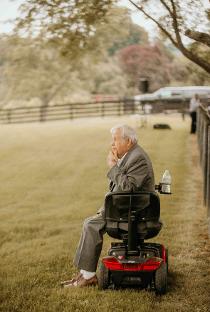 Gary Stephen Smith Sr.
Gary Stephen Smith Sr., 81, of Portsmouth, Ohio passed away on Saturday, November 11, 2023. Born November 3, 1942, to Roy Wesley Smith and Wilma May [Crabtree] Smith, Gary lived a life full of excitement and love.
Gary was a loving husband, father, and grandfather.
He is preceded in death by his first wife Carol Jean [Horner] Smith and his second wife Connie K. [West] Smith; son Stephen Wesley Smith; parents Roy Wesley Smith and Wilma May [Crabtree] Smith; and siblings Alice Shaffer, Bennett "Gene" (Carol) Smith, Richard Smith, Marvin (Patty) Smith, Robert "Bob" (Carol) Smith, Margaret Smith, Lyle "Butch" (Annabelle) Smith, Ronald Smith, and Donald (Melanie) Smith
Gary was a hard-working, and loving family man. He loved his family to the end and always took care of everyone in everything he did. He loved working on computers and other electronics. Gary also loved a good game of cards, especially poker. Cars were a hobby he passed on to both his children and his grandchildren, and he could often be seen working on them or going to local car shows and cruise-ins with his family.
Gary served as a Sergeant (E-5) in the Vietnam War. He was awarded several medals during his time in the service, including a Bronze Star and a Combat Medical Badge.
Coworkers from his time at the Atomic Diffusion Plant or Cyclops Steele would also have known him by his nickname of "007."
He is survived by his sons Gary "Steve" (Tereasa) Smith Jr. and Brad (Rachel); step-sons Jimmie "J.C" (Lisa) Spearry and John (Brittany) Spearry; grandchildren Michael Smith, Brittany (Aaron) Blevins, Mikhail Smith, Michael (Deanna) Bazler, Brianna Smith, Gary "Stephen" Smith III, Jeremiah Smith, and Aliza Smith; step-grandchildren Carter Spearry, Peyton Spearry, Tristan Spearry, Reagan Spearry, and Belina Spearry; and siblings Helen Allen, Vickie Handy, and Carolyn (Ronnie) Hamilton.
Visitation will be held at Harrison-Pyles Funeral Home, Wheelersburg, Ohio from 6pm until 8pm on Thursday, November 16, 2023.
A Funeral Service will be held at Harrison-Pyles Funeral Home, Wheelersburg, Ohio at 11am on Friday, November 17, 2023 with an additional hour of visitation before the funeral begins.
The family wishes to send a special thank you to the staff at SOMC Hospice Care for their care and compassion.
Condolences to the family may be made at www.harrison-pyles.com.