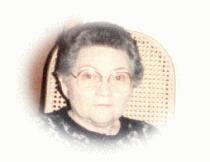 Doris Cochran 84 of Tadpole Road Louisa, KY passed away Tuesday April 5, 2011 at Three Rivers Medical Center.
Doris was born March 7, 1927 at Olive Hill, KY the daughter of the late Rachel Ann Bringer Hardyman. She was a homemaker. She was preceded in death by her husband Marion Cochran who died in 1987.
Survivors include four daughters Jewell Fitchpatrick, Carol Campbell, Phyliss Tomelloso, and Brenda Rose all of Louisa, KY, two sons Raymond Cochran of Louisa, KY and Richard Cochran of St. Marys, Ohio; twenty grandchildren and thirty five great grandchildren.
Funeral services were conducted on Friday April 8th at 11:00 am at the Wilson Funeral Home by Rev. Etsel Rose. Burial followed in the Cochran Family Cemetery at Tadpole, KY.