1933 - 2012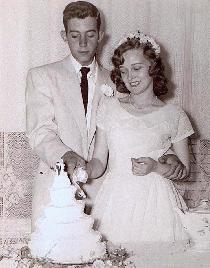 Billy Davis Goad, 78 of Barboursville, WV., went home to be with the Lord June 13, 2012. Graveside services will be conducted at 11:00am Saturday, June 16, 2012 at Ridgelawn Memorial Park, Huntington. He was born September 22, 1933 in Varney, WV, a son of the late Conley and Minnie Davis Goad. He was a graduate of Marshall University, a veteran of the United States Army, and a retired manager at J.H. Fletcher & Company. He was preceded in death by one sister, Daphine Hileman and one brother, Jim Goad. He is survived by his wife of 57 years Patricia Hamrick Goad; one daughter and son-in-law Lisa and Eric Hayes of Troy, AL; three sons and daughters-in- law, Billy and Teresa Goad of Salt Rock, Jeffery and Jamie Goad of Barboursville, Jason Goad of Barboursville; one sister, Lenile (Bill) Aker of Panama City, FL.; one brother, Conley Goad, Jr., of Gilbert; eight grandchildren, Brittany (Drew) Kelley of Greenville, SC, Seth Hunt of Greenville, SC, Marley Hayes of Troy, AL, Josh (Bobbi) Goad of Murfreesboro, TN, Jared (Teri) Goad of Wythville, VA, Mindy (Eric) Stephens of Barboursville, WV, Zachary & Korey Goad of Barboursville, WV; and six great grandchildren. Visitation will be from 6-8pm Friday, June 15th, at the Wallace Funeral Home, Barboursville. Online condolences may be expressed to the family at www.timeformemory.com/wallace.
---
There are currently 7 condolences.
Cathy Lawson
Tuesday June 19, 2012 at 12:33 PM

I am so sorry about hte loss of your grandfather. For some reason, you had been on my mind - and I actually looked at the newspaper.
tom sharp
Monday June 18, 2012 at 7:31 AM

Billy, I am sorry to have missed this sad event in your life. I know you told me your dad was ill a couple of weeks ago, but for some reason I didn't catch the obit. Please accept my condolences and heartfelt sorrow for your loss. tom sharp
BILL AND TERESA NIDA
tmnmaltese@aol.com
Friday June 15, 2012 at 3:53 PM

So sorry for the lost of your loved one. You are in our thoughts and prayers, Bill and Teresa Nida and family
Jeff Costello
jeffrey235@charter.net
Friday June 15, 2012 at 2:25 PM

We are so sadden to hear that Bill has passed away. This is a sad time but also a time to remember all of the wonderful memories he has left all of us with. I met Bill and Pat many years ago in Greenville. Lisa and her family lived across the street and when he visited Lisa introduced me to him and instantly we became friends. I think after that we never missed seeing one another on future visits.It wasn't hard to be a freind to Bill. His easy going attitude I admired very much. He had a very quite laugh but it seemed so hearty to hear. We would talk business and just about every thing else. I will always remember the look Bill had when he would tell me about his kids I could see in his face how proud he was of all of them. Then I had the pleasure of meeting them as they visited Lisa and I saw why Bill was so proud. I do not know if Lisa even knows this but one day Bill took me to the side and said Jeff I know my daughter will always be okay down here because I know if she ever needs someone you will be there. I hope I did okay in his eyes. To all of the family we send are thoughts and love. The Costello Family Greenville South Carolina
Julie Bailey
Friday June 15, 2012 at 2:07 PM

I am so sorry for all of your loss. Both my grandpa's passed away when I was young, so I am so happy that Brittany shared hers with me. Alot of good memories going to visit them with her and being a part of her family for the past 21 years. He was a very nice and caring man. My thoughts are with you all and I know he will be missed. Love, Julie Bailey
Chris Jarvis
chris@yesterdaydelivery.com
Friday June 15, 2012 at 10:51 AM

I want to pass on our deepest sympathy to your family at this time of loss. Bill was not only the foundation of our business with JH Fletcher, he was a joy to work for. We will miss him.
Karen Harvey Kelsay
Friday June 15, 2012 at 9:50 AM

Lisa, Billy, Jeff, Jason, we are so sorry about your loss and we are sorry that we cannot be with you right now. Know that we love you and are with you in spirit. Karen and Don Kelsay
---