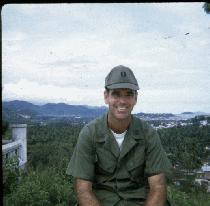 David Warren Coryell went to be with the Lord, his son Dustin Lee Coryell and parents George and Anna Lee Coryell on September 18th, 2014. David was born in San Antonio on April 4, 1939. He attended school in San Antonio and Boerne, graduating from Edison High School, before attending Southwest Texas State University in San Marcos. He received both his Bachelor's and Master's degrees from SWT and represented the Bobcats as a collegiate baseball player. He had an extensive baseball career that included playing for Quihi in the Highway 90 league and Camp Stanley in the Hill Country League, and representing the United States in the Pan American Games. Following college, David received a Commission from the United States Air Force. He served his country for 21 years including a tour in Vietnam where he was awarded the Bronze Star for meritorious service while a member of Air Force Advisory Team Seven at the Vietnamese Air Training Center at Nha Trang Air Base, Republic of Vietnam. After retirement from the Air Force, David became Kendall County's first Juvenile Probation Officer. He retired from the State of Texas after serving in the Juvenile role and as an Adult Probation Officer. His life included heavy involvement in the Church, years of coaching Little League Baseball and a long history of community service. With the exception of his service to the Lord, his greatest commitments in life were to his wife, children, grandchildren, brother, family and friends. He was a loving husband and an amazing father and grandfather who never left doubt in the mind of his family that he loved them dearly. He will be missed by many who loved him.
David is survived by his wife of 50 years Sandra, son Devin, son Derek and daughter in-law Michelle, grandchildren Lyndon, Presley and AnnaLee, brother Douglas and wife Nancy, and many loving nieces, nephews, cousins, family and friends.
A Commitment Service will take place at the Fort Sam Houston National Cemetery in San Antonio on Monday October 6th at 2:30 pm.
In lieu of flowers, David's family requests that memorial donations, be made to Dustin's House Foundation, 2225 Rock Creek Dr., Kerrville, TX 78028. Donations can be made online at dustinshouse.org