1922 - 2023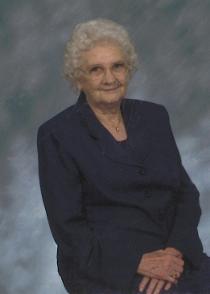 Lillie Pauline Gue, 101, of Huntington, passed away Monday, September 4, 2023. Visitation will be from 11 a.m. to 12:30 p.m. Friday, September 8, 2023 at the Wallace Funeral Home & Chapel, Barboursville. Graveside services will follow at 1:30 p.m. at Green Valley Cemetery, Branchland. She was born July 2, 1922, in Cabell County, a daughter of the late Ezra and Emma Adkins Childers. She was preceded in death by her husband Elder William Orville Gue, four brothers Edward, Herbert, Hubert and Wilkie Childers; two sisters Fern Childers and Rosie Napier; step son, Kenneth Gue; and step daughter, Geraldine Tomblin. She is survived by one step daughter, Juanita Fitch of Utica, OH; one step son, Eugene Gue of Ona; several step grandchildren and several step great-grandchildren; and many loving nieces and nephews. She worked at Reliance Manufacturing Company as a seamstress and was a member of Eastern Gates United Baptist Church where she was treasurer for 14 years. The family would like to thank the caregivers and staff at Wyngate at Rivers Edge and Hospice of Huntington. Thank you to Wallace Funeral Home for your kindness and professionalism and forever in our thoughts and prayers. In lieu of flowers, donations may be made to Hospice of Huntington. Online condolences may be expressed to the family at www.timeformemory.com/wallace.
---
There are currently 3 condolences.
Sandy Inskeep
Friday September 8, 2023 at 8:46 PM

Pauline was a lovely caring Aunt- she was married to my Uncle and he was blessed to have her in his life - sending prayers and know she'll be with the love of her life !!
David Thompson
Thursday September 7, 2023 at 2:01 PM

Lillie Pauline - such a pretty name - such a blessing to have known this wonderful person all my 79 years. I am saddened to read about Pauline's passing; however, God must have allowed her to be here so long in order for a greater number of people to enjoy her sweet presence in their lives. We shall miss Lillie Pauline's attendance at our many gatherings here on earth. But there's a glorious day coming, when we all will be together again. Many blessings to all of Pauline's family. ❤️Love~🌹 ~David Lee Thompson
Jodi Hazelett
Tuesday September 5, 2023 at 10:01 PM

Like how do you start and on line ulogy to lady like this one ? She was God send to myself when my mother was dying she came with Ruth and they cleaned my home did laundry and so much more ! After she died she was checking on me and bought me food when I was sick . She was and Angel 😇 and a servent of the lord .It's the lord sees servent hood more than anything. She often said I come to see people not their messy houses and lol over it , she truly did not care . She kept your secrets safely and dear friend, she never gossip about people. Her heart was pure and walked the servent walk with joy and love . I said to my sister well you know where she went without a doubt in our hearts ❤️! She marched in heaven with chariots awaiting her ! Fern, Helen my mother and Ethel my granny and Tootie my aunt and her mother Emma all just had coffee ☕️ and cake ! These family matriarchs who ascribe to be like , left us a legacy to enter in be like ! Don't miss out he's coming back soon ! Grab the red scarlet thread of rope( the blood of Jesus ) anchor yourself in him to go when he calls . She will be missed and was loved by many people. She will leave a legacy of servent hood , joy and love friend . She legally was not my aunt but out of respect being older than my sisters and We adopted this on her and Fern . ( we 3 girls my sisters and myself loved her and had respect for Pauline ) Sincerely with much love Jodi I'll see you where you are now soon , he's on his way back soon .
---