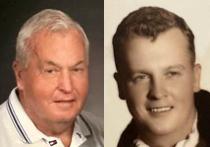 Edwin R. "Rossie" White, Jr., 88, of Lesage, WV, surrounded by his family, went home to be with the Lord on Wednesday, September 13, 2023, at St. Mary's Medical Center.
Rossie was born June 4, 1935, in Salt Rock, WV to Edwin R. White, Sr., and Geneva F. Childers White, and was a 1953 graduate of Barboursville High School where he played baseball, basketball and football. He proudly served our country in the United States Air Force from 1955-59 as a flight engineer and took part in reconnaissance flights over the Soviet Union. He retired from Pepsi-Cola in Huntington after 43 years. As a bottle sorter, salesman, route and sales manager, he made many cherished friends of his co-workers and customers.
Being athletic, he enjoyed playing on the Nickel Plant Industrial Baseball League in the early 1950's and golf in adulthood, excelling in amateur tournaments, but often commented that he was born too early to play at the level he aspired to. He was an avid fan of NASCAR, attended many races and had wonderful memories of helping bring to fruition the racetrack in Ona. He gardened his entire life and took pride in the vegetables and fruit he grew. To stay active, he was a regular neighborhood and mall walker and loved his fellow friends there. He was a member of Cox's Landing United Methodist Church, a former member of East Huntington Kiwanis Club, and in retirement, volunteered at Riviera Golf Course and helped his brother at Gary's Landscaping.
He is survived by his loving wife of 63 years, Marla J. Thomas White; his children: E. Scott White (Jennifer), Candice J. White, Cassandra L. McClung (Pete), and Edward R. "Hop" White; and grandchildren: Kelsey J. Cox (Justyn), Savannah S. Gray (Ryder), Samuel R. White, Helen K. "Kate" White, Elizabeth R. White; and great-granddaughter Kerrigan N. Gray.
He was preceded in death by his parents, brother, Gary White, brothers-in-law Herbert "Oogie" Burton, and Gary Plumley. He is survived by his sisters: Phyllis Burton, Shelia Plumley, and Deborah (Don) Hoff, and sister-in-law Linda White, and several nieces and nephews.
He married into a loyal family who loved him. He is survived by his sisters-in-law Donna Pinkerman, Karen Losee, and Pam Thomas, and brothers-in-law Thomas Losee, Jerry Ryder, and James Thomas; and many nieces and nephews. Predeceasing were his in-laws James R. "Buster" and Ruth E. Adkins Thomas, his sisters-in-law Deloris Baisden and Cheryl Ryder; and brothers-in-law John Pinkerman and Leon Baisden.
The visitation will be at Wallace Funeral Home, Barboursville, WV on Saturday, September 16, 2023 from 6:00-8:00 p.m., and the funeral service will be at Wallace Funeral Home on Sunday, September 17, 2023 at 2:00 p.m. Reverend Jerry Ryder will officiate. Pallbearers are Hop White, Samuel White, Justyn Cox, Ryder Gray, Jake Chisler, and Ron Hill. A military honors burial will occur at Baylous Cemetery, Salt Rock, WV. In lieu of flowers, please consider a donation to the Huntington City Mission.
Online condolences may be expressed to the family at www.timeformemory.com/wallace.