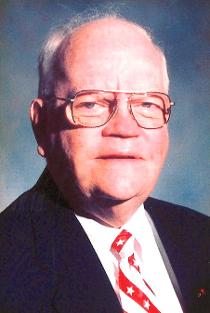 Charles Ray Woolcock, 91, of Barboursville, passed November 3, 2023, at home.
He was a son, brother, husband, father, cousin, and child of God. Born in Logan WV, son of Ray and Lucy Mae Woolcock on October 5th, 1932. Preceded in death by his parents and brother, Thomas Woolcock. Survived by Mertie, his wife of 70 years, two children - son David Woolcock (Debbie), daughter Sarah Clark (Jeff), grandchildren Jocelyn Weight (Doug), Brad Woolcock, Reed Woolcock, Jordan Beals (Jay), Jillian Brown (Tyler), Holly Maxwell, Hannah Haag, and 10 great-grandchildren.
Charlie graduated from Logan High School in 1950. After graduating high school, he studied accounting while attending Marshall University. During the Korean War, Charles served as a meteorologist in England for the United States Air Force. Following his military service, he began his career at an accounting firm in Logan WV and later held a seat on Logan's City Council. He was formerly employed by HK Porter/Conner Steel, Finance Director for the City of Huntington and retired as Finance Director for the Village of Barboursville.
Charles wore many hats, literally and figuratively. He enjoyed volunteering with many organizations within the community, state and nationwide. He was an active member of the Highlawn Presbyterian Church as an Elder & Property Chairman, Barboursville Rotary Club, Minerva Lodge, No. 13, A.F. & A.M., Barboursville, The Valley of Huntington Shiners, and involved in the Musical Arts Guild and many community theater troupes. He was also a former board member of the Boys & Girls Club of Huntington, WV Board of Pharmacy, Cabell Lincoln County Work Camp, and Pea Ridge Public Service District. He also served on different committees for the Presbytery of WV, was a former member of the Bluestone Board, and usher for the Marshall Football and Basketball Program.
In lieu of flowers, memorial gifts can be made to Highlawn Presbyterian Church Building Fund or the Hospice of Huntington. Building fund donations can be mailed to: Highlawn Presbyterian Church at 2814 Collis Ave., Huntington, WV 25702 and include 'Building Fund' in the memo or note section.
Funeral services will be conducted at 2 p.m. Saturday, November 18, 2023 at Highlawn Presbyterian Church, by Rev. Sharon Bell, with a reception to follow at the church. Services will be available online by visiting www.highlawnpc.org. Burial will be private.
Wallace Funeral Home, Barboursville, is assisting the family.
Online condolences may be expressed to the family at www.timeformemory.com/wallace.