1979 - 2023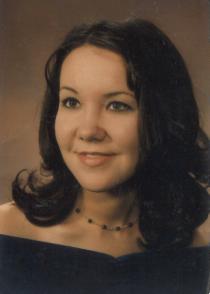 Christian Danelle Ray Walters Gilbert, 43, of Huntington, WV, went to be with her Savior Jesus Christ on March 22, 2023, after succumbing from injuries in a fall. She was preceded in death by her husbands, Matthew Walters of Ironton, Ohio and Greg Gilbert of Worthington, KY; and her grandparents, Inez and Don Ranson of Ona, WV and Shirley Edwards of Milton, WV. Surviving are her parents, Rick and Prema Ray of Hurricane, WV; brother, Daniel (Erin) Ray of Milton, WV; nephew and niece, Max and Piper Ray whom she dearly loved; uncle Darren Edwards (Dara, Chris) of Milton, WV; and aunt and uncle, Dianne and Mike Coiner of Elizabeth City, NC. She was a 1997 graduate of Jackson Christian School in Jackson, TN where she excelled in basketball and was an award winning pitcher for the varsity girls softball team. She attended Marshall University where she majored in Fine Arts and was a member of North Jackson Baptist Church. Special love and thanks to her biggest advocates and sisters, Erin Ray and Kristen Baker; special thanks to the Neuro Trauma Unit at St. Mary's Medical Center for their excellent care and love. Danelle had a special, kind, loving and giving heart, with a magnetic personality of never knowing a stranger. Honoring her wishes, there will be no services. Wallace Funeral Home, Milton, is assisting the family. Online condolences may be expressed to the family at www.timeformemory.com/wallace.
---
There are currently 5 condolences.
Nina L. Nowlin
Saturday April 1, 2023 at 6:03 PM

My heartfelt condolences to Prema and Rick and all the family. May God comfort you at this sad and difficult time. Love and Prayers
Beth McMillian
bethanee.mcmillian@gmail.com
Friday March 31, 2023 at 3:35 AM

Danelle was a friend that was tough as nails & as sweet & soft as a marshmallow. Never lacking in love, comfort, & patience when I needed her. I'm not sure what I'll do without her. My heart is shattered by this. My deepest condolences to her family. She was a true gem..
Joshua Spurgeon
Monday March 27, 2023 at 4:16 PM

Just wanted to let you know I have been praying for peace for the whole family in such a tragic situation.
Rod and Ladonna Patterson
lpatterson9215@suddenlink.net
Monday March 27, 2023 at 11:49 AM

Rick and Prema, we are so sorry for your loss. Love and prayers to you for comfort and peace during this time.
Matthew Johns
elliottmatthewjohns@gmail.com
Saturday March 25, 2023 at 1:34 PM

It's been 25 years Danelle, I just wanted to let you know I still have the mixtape you made for me.
---